The Gospel according to S. Matthew (KJV)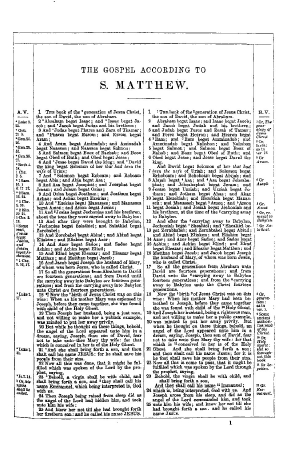 The First Gospel of the New Testament. A parallel version with the King James Version in one column and the revised Version in another column. Matthew was working as a tax collector in Capernaum for the tetrarch of Galilee, Herod Antipas, when he was called by Jesus to follow him. His efforts to bring the teachings of Jesus Christ to the world centered on Judea and lands to the east. Unlike the apostle Paul, who focused his efforts on the Gentiles of the Greco-Roman world, Matthew worked primarily among the Jews, as indicated by the fact that the Gospel of Matthew was originally written in Hebrew. Matthew's Gospel is special in the emphasis it places on the New Covenant represented by Christ and its relationship to the old Covenant.
The Parallel Bible. The Holy Bible containing the Old and New Testaments translated out of the Original Tongues: being the Authorised Version arranged in parallel columns with the Revised Version (Oxford University Press, 1885). The Gospel according to S. Matthew.
Copyright:
The text is in the public domain.
Formats:
| Format | Description | Size |
| --- | --- | --- |
| HTML | This version has been converted from the original text. Every effort has been taken to translate the unique features of the printed book into the HTML medium. | 329 KB |
Table of Contents