The Principles of Ethics, vol. 1 (LF ed.)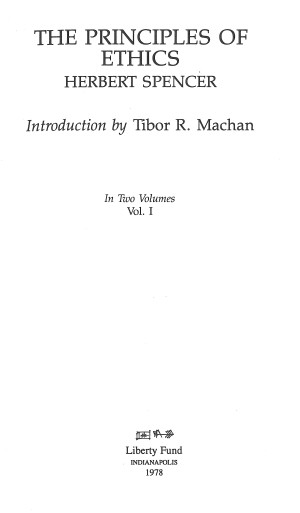 Vol. I of a two volume work which Spencer considered to be his finest work. In volume I he covers the data of ethics, the inductions of ethics, and the ethics of individual life.
Read the Liberty Classic on this title from Econlib.
The Principles of Ethics, introduction by Tibor R. Machan (Indianapolis: LibertyClassics, 1978). Vol. 1.
Copyright:
This work is copyrighted by the Institute for Humane Studies, George Mason University, Fairfax, Virginia, and is put online with their permission.
Formats:
| Format | Description | Size |
| --- | --- | --- |
| HTML | This version has been converted from the original text. Every effort has been taken to translate the unique features of the printed book into the HTML medium. | 1.21 MB |
Table of Contents