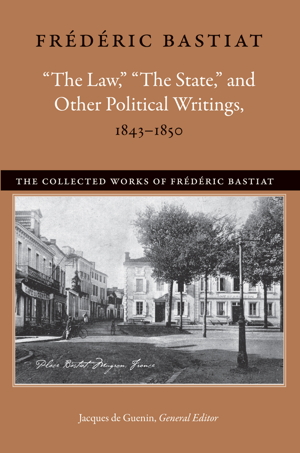 The Collected Works of Frédéric Bastiat, in 6 Vols.
A 6 vol. collection of the works of the 19th century French political economist Frédéric Bastiat. More than half of the material has never been translated into English before. The texts are accompanied by extensive glossaries, maps, and chronologies of the life and works of Bastiat to assist the reader.
The General Editor of Liberty Fund's Collected Works of Frédéric Bastiat, the French businessman Jacques de Guenin (1931-2015), passed away on Saturday October 24, 2015. The editor of the OLL, David M. Hart, reflects on Jacques's contributions to the rediscovery of liberty on both sides of the Atlantic here.
Additional information about the Bastiat translation project can be found at the Bastiat Project Summary page.
The Collected Works of Frédéric Bastiat. 6 Vols. Jacques de Guenin, General Editor. Translated from the French by Jane Willems and Michel Willems. Annotations and Glossaries by Jacques de Guenin, Jean-Claude Paul-Dejean, and David M. Hart. Translation Editor Dennis O'Keeffe. Academic Editor, David M. Hart (Indianapolis: Liberty Fund, 2011).
Copyright:
The copyright to this edition, in both print and electronic forms, is held by Liberty Fund, Inc.