Interventionism: An Economic Analysis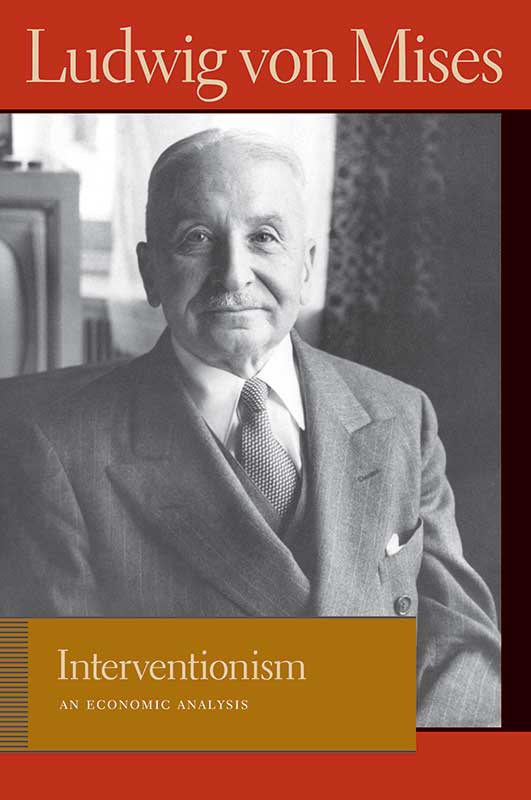 Interventionism provides Mises's analysis of the problems of government interference in business from the Austrian School perspective. Written in 1940, before the United States was officially involved in World War II, this book offers a rare insight into the war economies of Hitler's Germany and Mussolini's Italy. Mises criticizes the pre-World War II democratic governments for favoring socialism and interventionism over capitalist methods of production. Mises contends that government's economic role should be limited because of the negative political and social consequences of the economic policy of interventionism.
Interventionism: An Economic Analysis, Edited with a Foreword by Bettina Bien Greaves (Indianapolis: Liberty Fund, 2011).
Copyright:
Interventionism was written by Ludwig von Mises in 1940 and is here translated from the original German by Thomas Francis McManus and Heinrich Bund. Editorial additions and index © 1998, 2011 by Liberty Fund, Inc. Interventionism was originally published in 1998 by Foundation for Economic Education, Inc.
Formats:
| Format | Description | Size |
| --- | --- | --- |
| HTML | This version has been converted from the original text. Every effort has been taken to translate the unique features of the printed book into the HTML medium. | 298 KB |
| LF Printer PDF | This text-based PDF was prepared by the typesetters of the LF book. | 1 MB |
Table of Contents