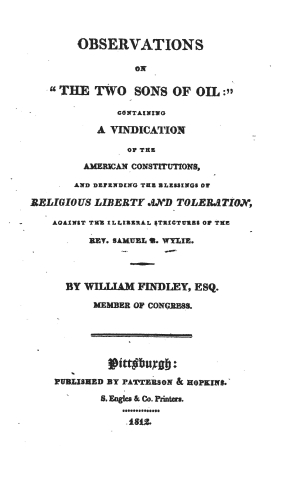 Observations on "The Two Sons of Oil" (1812 ed.)
A facsimile of the 1812 edition. Observations on "The Two Sons of Oil" was written in 1811 in response to the Reverend Samuel B. Wylie's work, The Two Sons of Oil, which was published in 1803. In this work of radical Presbyterian theology, Wylie pointed out what he considered to be deficiencies in the constitutions of both Pennsylvania and the United States and declared them to be immoral. Findley's response to Wylie's criticisms in Observations showed that it was neither the purpose nor the design of the United States government to have a federal religion and a federal creed. In a broader sense the book is also a passionate defense of a civil government guided by moral principles that allow for essential freedoms. Findley's defense of religious liberty and the American constitutions affords a grand window through which to view early American understanding about the relationship between politics and faith and why it is essential for both liberty and piety to resist any attempt to unite government and Church.
Observations on "The Two Sons of Oil": Containing a Vindication of the American Constitutions, and Defending the Blessings of Religious Liberty and Toleration, against the Illiberal Strictures of the Rev. Samuel B. Wylie (Pittsburgh, Patterson & Hopkins, 1812).
Copyright:
The text is in the public domain. It was scanned and originally put online by Google for non-commercial, educational purposes. We have retained the Google watermark as requested but have added tables of contents, pagination, and other educational aids where appropriate.
Formats:

| Format | Description | Size |
| --- | --- | --- |
| Facsimile PDF | This is a facsimile or image-based PDF made from scans of the original book. | 27.5 MB |