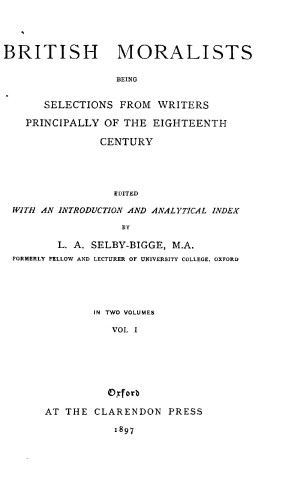 British Moralists 2 vols.
Vol. 1 contains selections from the work of Shaftesbury, Hutcheson, Butler, Adam Smith, and Bentham. Vol. 2 contains works by Samuel Clarke, Balguy, Richard Price, Hobbes, Kames, Locke, Wollaston, and others.
British Moralists, being Selections from Writers principally of the Eighteenth Century, edited with an Introduction and analytical Index by L.A. Shelby-Bigge in two volumes (Oxford: Clarendon Press, 1897). 2 vols.
Copyright:
The text is in the public domain.