The Second Book of Moses, called Exodus (KJV)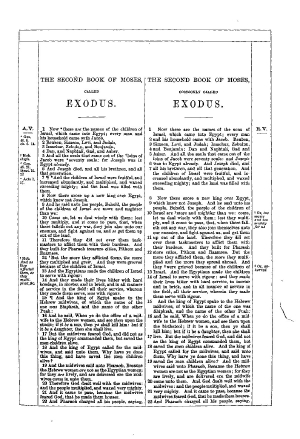 The second book of the Pentateuch (the first five books of the Old Testament), also called The Law of Moses, which contains the story of Moses who is called by God to rescue his people from oppression in Egypt. After making a covenant with God in the wilderness of Sinai, the Israelites build a portable shrine (tabernacle) and begin their journey to the promised land of Canaan.
The Parallel Bible. The Holy Bible containing the Old and New Testaments translated out of the Original Tongues: being the Authorised Version arranged in parallel columns with the Revised Version (Oxford University Press, 1885). The Book of Exodus.
Copyright:
The text is in the public domain.
Formats:
| Format | Description | Size |
| --- | --- | --- |
| HTML | This version has been converted from the original text. Every effort has been taken to translate the unique features of the printed book into the HTML medium. | 397 KB |
Table of Contents