Plato believed that great souls and creative talents produce "offspring" which can be enjoyed by others: wisdom, virtue, poetry, art, temperance, justice, and the law (340s BC)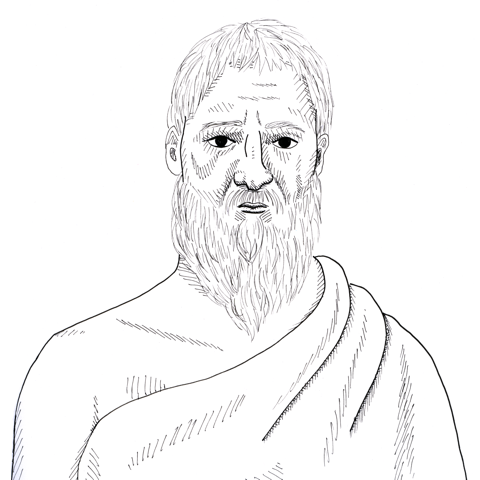 Found in The Dialogues of Plato, vol. 1
In the Symposium, Plato argues that ideas such as wisdom and virtue and temperance and justice have their own offspring and that the great poets like Homer or legislators like Solon have "children" which are worthy of admiration and emulation:
But souls which are pregnant—for there certainly are men who are more creative in their souls than in their bodies—conceive that which is proper for the soul to conceive or contain. And what are these conceptions?—wisdom and virtue in general. And such creators are poets and all artists who are deserving of the name inventor. But the greatest and fairest sort of wisdom by far is that which is concerned with the ordering of states and families, and which is called temperance and justice. And he who in youth has the seed of these implanted in him and is himself inspired, when he comes to maturity desires to beget and generate. He wanders about seeking beauty that he may beget offspring—for in deformity he will beget nothing—and naturally embraces the beautiful rather than the deformed body; above all when he finds a fair and noble and well–nurtured soul, he embraces the two in one person, and to such an one he is full of speech about virtue and the nature and pursuits of a good man; and he tries to educate him; and at the touch of the beautiful which is ever present to his memory, even when absent, he brings forth that which he had conceived long before, and in company with him tends that which he brings forth; and they are married by a far nearer tie and have a closer friendship than those who beget mortal children, for the children who are their common offspring are fairer and more immortal. Who, when he thinks of Homer and Hesiod and other great poets, would not rather have their children than ordinary human ones? Who would not emulate them in the creation of children such as theirs, which have preserved their memory and given them everlasting glory?
In this passage Plato asks us to compare a soul or mind which is "pregnant" with new and creative ideas with a women who is pregnant with her child. Both "offspring" are dearly loved and both will preserve the memory and thus create a kind of immortality for the parent. Plato also uses this idea to suggest that a similar motivation drives teachers to impart their knowledge and wisdom to their students. The ideas they impart are like little "offspring" which take root in the minds of their pupils.