Alexis de Tocqueville stood up in the Constituent Assembly to criticize socialism as a violation of human nature, property rights, and individual liberty (1848)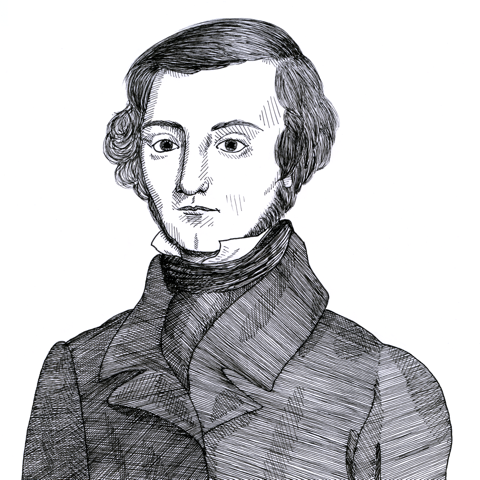 Found in New Individualist Review
In February, 1848, the July Monarchy of Louis Philippe was overthrown, and the Second French Republic established. The new republic believed that the unemployment problem which was plaguing Paris could be solved by setting up government work-projects, guaranteeing employment at a certain wage rate for all who desired it. On September 12th, the Constituent Assembly debated the continuance of this arrangement and Tocqueville rose to speak against it. In the course of his speech he entered onto the subject of socialism, which he considered the logical consequence of recognizing the "right to work," and devoted most of his time to a discussion of the socialist position. [Translator's Note]:
Now, a third and final trait, one which, in my eyes, best describes socialists of all schools and shades, is a profound opposition to personal liberty and scorn for individual reason, a complete contempt for the individual. They unceasingly attempt to mutilate, to curtail, to obstruct personal freedom in any and all ways. They hold that the State must not only act as the director of society, but must further be master of each man, and not only master, but keeper and trainer. ["Excellent."] For fear of allowing him to err, the State must place itself forever by his side, above him, around him, better to guide him, to maintain him, in a word, to confine him. They call, in fact, for the forfeiture, to a greater or less degree, of human liberty, [Further signs of assent.] to the point where, were I to attempt to sum up what socialism is, I would say that it was simply a new system of serfdom. [Lively assent.]
Liberty Fund has published a new and authoritative edition of Tocqueville's classic work Democracy in America (1835, 1840). This short piece on socialism was translated by Ralph Raico for publication in the New individualist Review and we added it to our "Forgotten Gems" collection. In the quotation we get a good feel for the cut and thrust of parliamentary debate with the interjections of approval and disapproval. This period is also very important for Frédéric Bastiat who was also a member of parliament and fought long and hard against the rising forces of socialism before his untimely death in 1850.