John Stuart Mill's and Harriet Taylor's Writings on Women
The Collected Works of John Stuart Mill, ed. J.M. Robson (Toronto: University of Toronto Press, London: Routledge and Kegan Paul, 1963-1991), 33 vols. Editorial committee: J.M. Robinson, General Editor, Harold Bohme, J.C. Cairns, J.B. Conacher, D.P. Dryer, Marion Filipiuk, Frances Halpenny, Samuel Hollander, R.F. McRae, Ian Montagnes, Ann P. Robson, F.E. Sparshott.
The University of Toronto edition of the Collected Works of J.S. Mill did not gather all of Mill's writings on women into one volume (as they did with his writings on India). On this page we have done so, with links to the online edition.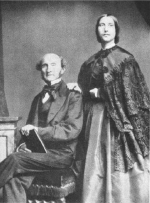 Essays on Equality, Law, and Education
Appendices
December 1822 to December 1824 3
September 1833 to October 1834 593
Newspaper Writings: October 1846 to June 1847 879
Newspaper Writings: December 1847 to July 1858 1089
Newspaper Writings: March 1863 to July 1873 1201
February to August 1866
February to August 1867
February to November 1868
Public and Parliamentary Speeches: July 1869-March 1873
Appendix D: Manuscript Drafts of Speech
Last modified April 13, 2016