August 2022: Jane Austen's Persuasion: Aristocracy, Independence, and Economics
Please join us in August 2022 for a rewarding online experience.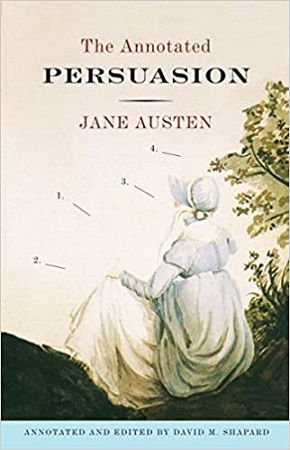 Persuasion, Jane Austen's last novel, is a significant departure from the fine estates (and fine young eyes) that feature in her earlier works. Its protagonist, Anne Elliott, makes a serious romantic mistake early in life. Rejecting the advances of a bold, brash captain of the navy, convinced by her aristocratic family and friends that he is socially and financially beneath her and will always remain so due to the inalterable rules of the British class system, she still pines for him a decade later, after the Napoleonic wars have helped him make good on all of his promises of success and fortune, and the old, stable hierarchies are beginning to crumble. "Forced into prudence in her youth, she learned romance as she grew older: the natural sequel of an unnatural beginning." Austen's exploration of mature love and a world undergoing rapid and unsettling economic changes asks new and big questions about speculation, taking risks, regret, and what kinds of virtues lead to wealth and happiness.
Pre-registration is required, and we ask you to register only if you can be present for ALL sessions. Participants will need to acquire their own copy of the novel. Participants who successfully complete ALL sessions will be eligible to receive an Amazon e-gift certificate.



The sessions and readings are as follows:
Session I (Chapters 1-10): New and Old Aristocracies.
Thursday, August 4, 3-4pm EDT
In the first ten chapters of the book, we learn about the shifting fault lines in British society after the conclusion of the Napoleonic wars. The old aristocracy, represented by the Elliott family, is giving way to the new aristocracy of the professional navy men, and the world is shifting under everyone's feet. Anne struggles to live with her regrets and evaluate whether she should have known better than to trust to the old hierarchies, even as her family suffers financial setbacks and the dashing Captain Wentworth reappears. 
Session II (Chapters 11-17): Good Company.
Monday, August 8, 3-4pm EDT
Austen continues to explore the theme of virtue in the midst of financial adversity as Anne travels to Bath to join her snooty father and sister but spends most of her time with an old school friend who has fallen on hard times. A possibility of uniting fortune and her family's title--and thus resurrecting the old world again--presents itself in the figure of a new suitor for Anne, but will Anne take this opportunity?
Session III (Chapters 18-end): Speaking Up.
Thursday, August 11, 3-4pm EDT
In the final chapters of the book, the previously timid and easily persuaded Anne develops her own voice and finally cashes in on the virtues she has cultivated to claim her Captain Wentworth and a place onboard a naval frigate. How does she persuade him? What is the role of advice and persuasion in moral and economic life? What is the right balance between prudence and romance?