The First Colored Senator and Representatives
Created circa 1872 by the Currier & Ives Lithography Company, "The First Colored Senator and Representatives" is a combined portrait of the African-Americans that were elected to serve in Congress following the Civil War. They represented the southern states of Alabama, Georgia, Florida, Mississippi, and South Carolina. During the early part of the Reconstruction Era, there were 17 African-Americans serving in Congress (2 Senators and 15 Representatives) starting with Hiram Rhoades Revels, who was first elected in 1870 to fill the vacant Senate seat for Mississippi.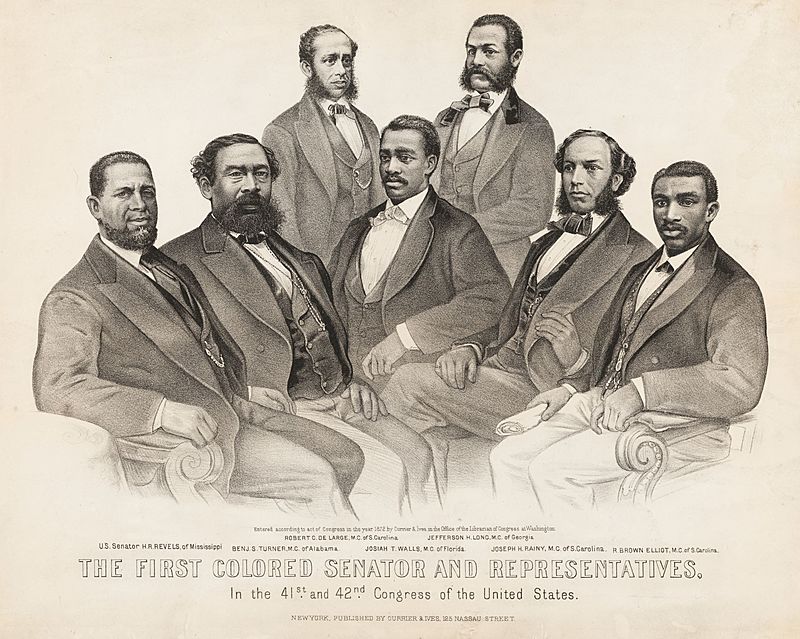 Some may be surprised by the title of this image. The image is a snapshot in time. Although today, we would not use the term "colored" to describe these political leaders, during this time period this term was used. Looking back at this image gives us the opportunity not only to see the great advances celebrated by the presence of these African-Americans in Congress, but also to consider how things have continued to change since then.
From left to right:
Senator Hiram Rhoades Revels, (27 Sep 1822 - 16 Jan 1901) 
A freeman and Methodist preacher, Revels became the first African-American to serve in the Congress as a Senator after filling the vacant seat for Mississippi.
Congressman Benjamin Sterling Turner, (17 Mar 1825 - 21 Mar 1894)
A former slave and self-made businessman, Turner was the first African-American representative from the state of Alabama. During his tenure, he focused on restoring peace and repairing economic damage to the war-torn South.
Congressman Robert Carlos De Large, (15 Mar 1842 - 14 Feb 1874) 
De Large was a former slave and tailor who represented the state of South Carolina. He supported a bill that would provide amnesty to Confederates but had strong feelings that loyal black and white southerners should be protected from terror and prosecution.
Congressman Josiah Thomas Walls, (30 Dec 1842 - 15 May 1905)
A former slave and sawmill worker, Walls became the first African-American to represent the state of Florida after fighting many political battles. He spent a lot of his terms fighting to prove that he belonged in Congress.
Congressman Jefferson Franklin Long, (3 Mar 1836 - 5 Feb 1900)
Like Robert Carlos De Large, Long was  a former slave and a trained tailor. He taught himself to read and write, and represented Georgia in Congress. He only served in Congress for three months but during that time he was the first African-American to speak on the House floor in objection to the Amnesty bill.
Congressman Joseph Hayne Rainey, (21 Jun 1832 - 1 Aug 1887)
A former slave and barber, Rainey was the representative of South Carolina during  Reconstruction. He is known as the first African-American to serve in the House of Representatives, the first African-American Speaker of the House, and the longest serving African-American lawmaker during Reconstruction.
Congressman Robert Brown Elliott, (11 Aug 1842 - 9 Aug 1884)
Elliott was a freeman and an associate editor for the South Carolina Leader who represented South Carolina in the Congress. He was a great orator, had a photographic memory, and dazzled most observers. During his tenure, he fought for civil rights.
This collection represents the hope of the 13th, 14th and 15th amendments for the former slaves and freedmen. It was the beginning of the Constitution living up to its promise for all of its citizens. Even though the dream was deferred this combined portrait is a record of a proud moment of real progress.