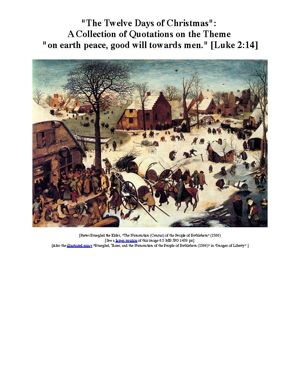 The Twelve Days of Christmas
We have selected 12 quotations from the collection of texts in the Online Library of Liberty which deal with the theme of "peace on earth and goodwill towards men". A new quotation will be posted on each of the 12 days beginning with Christmas day. We start with the source of the original quotation from the New Testament, the Gospel of Luke chapter 2 verse 14, "Glory to God in the highest, and on earth peace, good will toward men," and then follow it with a new quotation each day. The quote for Christmas day itself comes from a letter by Jan Huss which was to be read out on Christmas Day to his supporters in Prague in 1412. Thereafter the quotes are in chronological order.
See an HTML version of this collection.
The Twelve Days of Christmas: A Collection of Quotations on the Theme "on earth peace, good will towards men." [Luke 2:14] (Indianapolis: Liberty Fund, 2018).
Copyright:
The copyright to this edition, in both print and electronic forms, is held by Liberty Fund, Inc.