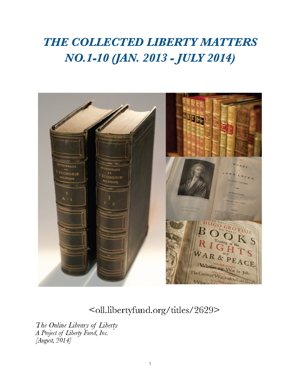 The Collected Liberty Matters Nos. 1-10
This volume is a collection of the first ten "Liberty Matters" online discussion forums which began in January 2013 and have appeared every two months since. The discussions have focused on authors whose work is well represented in the Online Library of Liberty. A leading scholar is asked to write an interpretative essay about a chosen author, to which other invited scholars respond in a formal essay which is then followed by a free form discussion over the ensuing month. The topics have included "John Locke on Property", "James Buchanan: An Assessment", "Gustave de Molinari's Legacy for Liberty", "Bastiat and Political Economy", "George Smith on the System of Liberty", "Arthur Seldon and the Institute of Economic Affairs", "Ludwig von Mises's The Theory of Money and Credit at 101", "Hugo Grotius on War and the State", "Tocqueville's New Science of Politics Revisited", and "Deirdre McCloskey and Economists' Ideas about Ideas". The Forums are also available individually in HTML and a variety of ebook formats.
The Collected Liberty Matters: Nos. 1-10 (Jan. 2013 - July 2014), ed. David M. Hart and Sheldon Richman (Indianapolis: Liberty Fund, 2014).
Copyright:
The copyright to this edition, in both print and electronic forms, is held by Liberty Fund, Inc.
Formats:

| Format | Description | Size |
| --- | --- | --- |
| Kindle | This is an E-book formatted for Amazon Kindle devices. | 1.53 MB |