Title pages of LF Books Catalogs
The following are some title pages from past issues of the Liberty Fund Books Catalogs. They provide a visual history of Liberty Fund's efforts over the decades (1977-2008) to publish high quality classics of liberty at affordable prices. Copies of many of the online catalog from which books can be ordered. We will be adding to this collection as more of our old catalogs are scanned.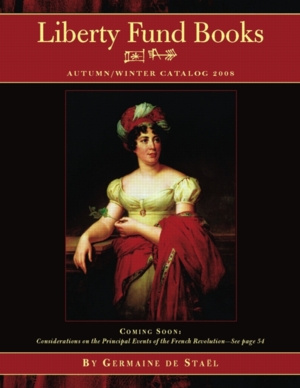 [An image of the classical liberal historian of the French revolution, Madame de Stael (1766-1817), from a recent catalog].
2010 Catalogs
2009 Catalogs
2008 Catalogs
2007 Catalogs
2006 Catalogs
2005 Catalogs
2004 Catalogs
2003 Catalogs
2002 Catalogs
1994 Catalog
Last modified April 13, 2016