Florestan laments the loss of his liberty for speaking the truth
Source: Beethoven' s Opera Fidelio. German Text, with an English Translation (Boston: Oliver Ditson, 1864). Chapter: ACT I, SCENE I.
Copyright: The text is in the public domain.
Fair Use: This material is put online to further the educational goals of Liberty Fund, Inc. Unless otherwise stated in the Copyright Information section above, this material may be used freely for educational and academic purposes. It may not be used in any way for profit.
This image comes from the libretto of Beethoven's opera Fidelio (1805) in which the hero, Florestan, is falsely imprisoned and his release is sought by his lover Leonora. The surrounding text is given below.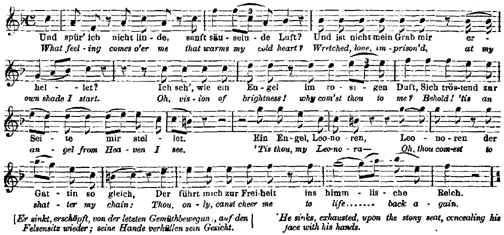 UND SPUR ICH NICHT LINDE—WHAT FEELING COMES O'ER ME. Air. Florestan.
ACT II, SCENE I.—
A dark subterranean Dungeon. To the left a cistern or reservoir, covered with stones and rubbish. In the background, several openings in the wall, guarded with gratings, through which can be seen the steps of a staircase, leading from above. To the right, the door into the Prison. A lamp hanging.
[Florestan,alone. He sits on a stone: round his body is a long chain, the end of which is fastened to the wall.
Recitative.
Alas! what darkness dense!
What horrid stillness!
Here in this dark tomb, is nothing known
But my deep anguish! Oh, most cruel torture!
Oh, Heavenly Providence, how much longer
Will this my misery last!
Air.
In the bright morning of life
My liberty, alas! was lost:
These chains are the reward
Of true and open speaking.
But what avails my lamentations?
Hopeless is my condition:
The only solace for my torments
Rests on my conscious innocence.
[Enthusiastically, but calmly.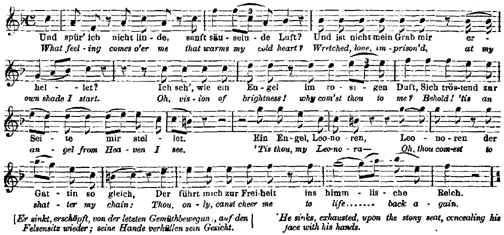 UND SPUR ICH NICHT LINDE—WHAT FEELING COMES O'ER ME. Air. Florestan.
[What feeling comes o'er me that warms my cold heart?
Wreteched, lone, imprisoned, at my own shade I start.
Oh, vision of brightness! why com'st thou to me? Behold! 'tis an angel from Heaven I see.
T'is thou, my Leonora - Oh, thou comest to shatter my chain: Thou, only canst cheer me to life.... back again.]
[He sinks, exhausted, upon the stony seat, concealing his jace with his hands.