About Liberty Fund:
Liberty Fund, Inc. is a private, educational foundation established to encourage the study of the ideal of a society of free and responsible individuals.
Fair use statement:
This material is put online to further the educational goals of Liberty Fund, Inc. Unless otherwise stated in the Copyright Information section of the individual titles, this material may be used freely for educational and academic purposes. It may not be used in any way for profit.
Frédéric Bastiat on the State and the Free Market
This List Is By:
Dr. David M. Hart
Liberty Fund, Inc., Indianapolis, Indiana
Director of the Online Library of Liberty Project at Liberty Fund, Inc.
B.A. (Macquarie), M.A. (Stanford), PhD (King's College Cambridge).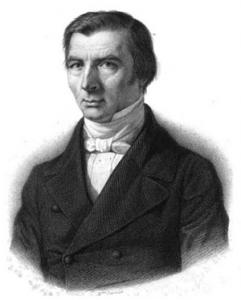 The following is a collection of key articles and chapters by the 19th century French political economist Frédéric Bastiat (1801-1850) which have been selected to give a representative sample of his thinking on the nature of the state, the proper limit of its functions, the nature of the free market, and individual liberty,
For more information see: