About Liberty Fund:
Liberty Fund, Inc. is a private, educational foundation established to encourage the study of the ideal of a society of free and responsible individuals.
Fair use statement:
This material is put online to further the educational goals of Liberty Fund, Inc. Unless otherwise stated in the Copyright Information section of the individual titles, this material may be used freely for educational and academic purposes. It may not be used in any way for profit.
James Madison Memorial Fellowship Foundation Summer Institute 2012
This List Is By:
Claire M. Griffin
James Madison Memorial Education Foundation
I am a James Madison Fellow (HI, '92) and currently serve as Director of Special Projects for the Foundation.

Introduction
This Reading List was created by the James Madison Memorial Fellowship Foundation for the 2012 Summer Institute: Foundations of American Constitutionalism (History 520-10.) . These readings are provided in hard-copy text and/or the Course Packet to all Institute participants. Readings which are not available at the OLL (but accessible from other on-line sites noted below) are the following:
Jonathan Mayhew, A Discourse concerning Unlimited Submission and Non-Resistance to the Higher Powers: With some Reflections on the Resistance made to King Charles I. And on the Anniversary of his Death: In which the Mysterious Doctrine of that Prince's Saintship and Martyrdom is Unriddled (1750). This should be read after Vindiciae and before Boucher. Please read pgs. 9-40. Also available online at DigitalCommons@University of Nebraska - Lincoln. Electronic Texts in American Studies. In PDF here.

Benjamin Rush, Address to the People of the United States (American Museum, Philadelphia, January 1787). This should be read after Hamilton's letter to Duane. *Online at TeachingAmericanHistory.org here.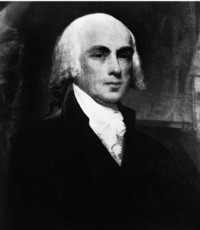 James Madison (1751-1836).
Other OLL Resources of Interest