About Liberty Fund:
Liberty Fund, Inc. is a private, educational foundation established to encourage the study of the ideal of a society of free and responsible individuals.
Fair use statement:
This material is put online to further the educational goals of Liberty Fund, Inc. Unless otherwise stated in the Copyright Information section of the individual titles, this material may be used freely for educational and academic purposes. It may not be used in any way for profit.
Liberty and Responsibility in John Stuart Mill
This List Is By:
Nicolas Maloberti
Liberty Fund, Inc.
Liberty Fund Fellow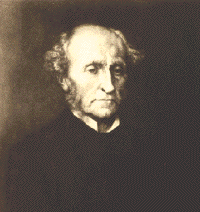 In 2006, Liberty Fund made available in paperback eight volumes of The Collected Works of John Stuart Mill that remain most relevant to liberty and responsibility in the twenty-first century. Some of those writings are seldom read today, such as Mill's essay on Bentham, in which Mill sketches a realistic account of the "springs of human action," or his unfinished "Chapters on Socialism," in which Mill not only formulates fundamental objections to the economic possibility of socialism based on the high moral and cognitive demands that it places on individuals, but also prophetically exposes the dangers to individuality posed by a socialist economy. The purpose of this colloquium is to explore a selection of these seldom read writings along with selections from his more well-known texts, such as On Liberty and Considerations on Representative Government.
Arguably the most influential English-speaking philosopher of the nineteenth century, John Stuart Mill was also one of the most articulate defenders of individual liberty. The consistency of his views is often questioned, but this is hardly surprising once we recognize the ambitious nature of his intellectual project. The scope of his interests included ethics, logic, economics, political science, epistemology, history, legislation, sociology, and education. Few other authors have attempted to offer systematic answers to virtually every fundamental question raised by the ideal of a society of free and responsible individuals. Thus, we believe that exploring the works of John Stuart Mill will not only give conferees the opportunity to assess the value of his views, but will also present them with a rare chance to reflect on issues as diverse and interconnected as the nature of human flourishing, the problem of free will and individual responsibility, the moral foundations of a liberal order, the corrupting influence of power and how to address it through the design of political institutions, the nature of progress and the challenges it brings about, and the purposes of higher education.
About John Stuart Mill
John Stuart Mill was the precocious child of the Philosophical Radical and Benthamite James Mill. Taught Greek, Latin, and political economy at an early age, He spent his youth in the company of the Philosophic Radicals, Benthamites and utilitarians who gathered around his father James. J.S. Mill went on to become a journalist, Member of Parliament, and philosopher and is regarded as one of the most significant English classical liberals of the 19th century.
Timeline: The Life of John Stuart Mill (1806-1873)
Essays on John Stuart Mill at the OLL