About Liberty Fund:
Liberty Fund, Inc. is a private, educational foundation established to encourage the study of the ideal of a society of free and responsible individuals.
Fair use statement:
This material is put online to further the educational goals of Liberty Fund, Inc. Unless otherwise stated in the Copyright Information section of the individual titles, this material may be used freely for educational and academic purposes. It may not be used in any way for profit.
New Liberty Fund Titles 2009
This List Is By:
Liberty Fund Staff
Liberty Fund, Inc., Indianapolis, Indiana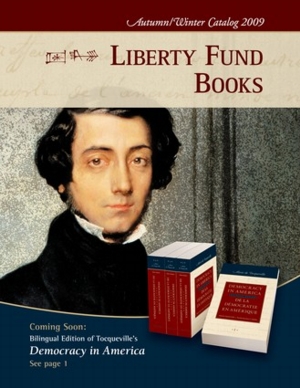 This is a list of books published by Liberty Fund during the 2009 calendar year. Those titles which are not available online are also listed below for your information.
To order any of these titles please visit Liberty Fund's online catalog.
All titles which are available online are listed here.
The following titles are not available online for copyright reasons:
February 2009: Friedrich von Hayek, The Trend of Economic Thinking: Essays on Political Economists and Economic History.
March 2009: Friedrich von Hayek, Socialism and War: Essays, Documents, Reviews.
April 2009: Friedrich von Hayek, Contra Keynes and Cambridge: Essays, Correspondence.
April 2009: Friedrich von Hayek, Good Money, Part I: The New World.
April 2009: Friedrich von Hayek, Good Money, Part II: The Standard.
October 2009: Smith, The Anti-Federalist Writings of the Melancton Smith Circle.
The following titles will go online in the near future:
April 2009: Bruce Frohnen, The American Nation: Primary Sources.
August 2009: Dreisbach, The Sacred Rights of Conscience: Selected Readings on Religious Liberty and Church-State Relations in the American Founding Era.
September 2009: Pollard, The Representation of Business in English Literature.
December 2009: Kirzner, The Economic Point of View (Vol 1 of The Collected Works of Israel M. Kirzner).
Samuel von Pufendorf, Two Books of the Elements of Universal Jurisprudence, translated by William Abbott Oldfather, 1931. Revised by Thomas Behme. Edited and with an Introduction by Thomas Behme (Indianapolis: Liberty Fund, 2009).

Accessed from oll.libertyfund.org/title/2220 on 2010-02-04

The copyright to this edition, in both print and electronic forms, is held by Liberty Fund, Inc.