About Liberty Fund:
Liberty Fund, Inc. is a private, educational foundation established to encourage the study of the ideal of a society of free and responsible individuals.
Fair use statement:
This material is put online to further the educational goals of Liberty Fund, Inc. Unless otherwise stated in the Copyright Information section of the individual titles, this material may be used freely for educational and academic purposes. It may not be used in any way for profit.
New Liberty Fund Titles 2006
This List Is By:
Liberty Fund Staff
Liberty Fund, Inc., Indianapolis, Indiana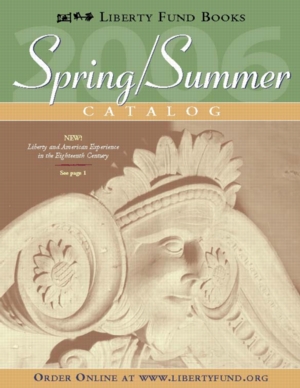 This is a partial list of books published by Liberty Fund during the 2006 calendar year (to be completed later). Those titles which are not available online are also listed below for your information.
To order any of these titles please visit Liberty Fund's online catalog.
All titles which are available online are listed here.
The following titles are not available online:
Gordon Tullock, The Selected Works, vol. 10
The Collected Works of Armen Alchian, vols. 1 & 2