19th Century French Political Economy Part 10 - Bastiat, Chevalier, Dunoyer, Guizot, et al.
This List Is By:
Liberty Fund Staff
Liberty Fund, Inc., Indianapolis, Indiana
These articles first appeared in the Dictionnaire d'Économie Politique, ed. Guillaumin and Charles Coquelin (Paris: Guillaumin, 1852) and the Dictionnaire général de la Politique, ed. Maurice Block (Paris: O. Lorenz, 1873) and were translated into English and included in Lalor's Cyclopedia of Political Science, Political Economy, and of the Political History of the United States by the best American and European Authors, ed. John J. Lalor (Chicago: M.B. Carey, 1899) in 3 vols.
The French political economists of the the 19th century, or "the economists" as they liked to call themselves, are less well known than the classical school which appeared in England at the same time. The French political economists differed from their English counterparts on a number of grounds: the radicalism of their support for free markets, the founding of their beliefs on doctrines of natural rights and natural law, and the intellectual debt they owed to Jean-Baptiste Say (1767-1832). Some of their leading figures were Say, Charles Comte, Charles Dunoyer, Frédéric Bastiat (1801-1850), Charles Coquelin, Joseph Garnier, Hippolyte Passy, Gustave de Molinari (1819-1912), and Léon Faucher.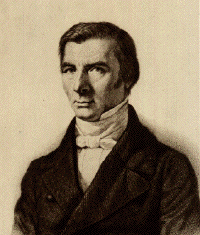 Frédéric Bastiat (1801-1850) was one of the leading advocates of free markets and free trade in the mid-19 century. He was inspired by the activities of Richard Cobden and the organization of the Anti-Corn Law League in Britain in the 1840s and tried to mimic their success in France. Bastiat was an elected member of various French political bodies and opposed both protection and the rise of socialist ideas in these forums. His writings for a broader audience were very popular and were quickly translated and republished in the U.S. and throughout Europe. His incomplete magnum opus, Economic Harmonies, is full of insights into the operation of the market and is still of great interest to economists. He died at a young age from cancer of the throat. [The image comes from "The Warren J. Samuels Portrait Collection at Duke University."]
Michel Chevalier (1806-87). Liberal economist and alumnus of the École polytechnique. Minister of Napoleon III. Initially a Saint-Simonist, he was imprisoned for two years (1832-33). After a trip to the United States, he published Lettres sur l'Amérique du Nord (1836), Histoire et description des voies de communications aux Etats-Unis et des travaux d'art qui en dependent (1840-41), and Cours d'économie politique (1845–55). He was appointed to the chair of political economy at the Collège de France in 1840 and became senator in 1860. He was an admirer of Bastiat and Cobden and played a decisive role in the treaty on free trade of 1860, between France and England (Chevalier was the signatory for France, while Cobden was the signatory for England).
Louis Wolowski (1810-76). Wolowski was a lawyer, politician, and economist of Polish origin. His interests lay in industrial and labor economics, free trade, and bimetallism. He was a professor of industrial law at the Conservatoire national des arts et métiers, a member of the Académie des sciences morales et politiques from 1855, serving as its president in 1866-67, and member and president of the Société d'économie politique. His political career started in 1848, when he represented La Seine in the Constituent and Legislative Assemblies. During the 1848 revolution he was an ardent opponent of the socialist Louis Blanc and his plans for labor organization. Wolowski continued his career as a politician in the Third Republic, where he served as a member of the Assembly and took an interest in budgetary matters. He edited the Revue de droit français et etranger and wrote articles for the Journal des économistes. Among his books are Cours de législation industrielle. De l'organisation du travail (1844) and Études d'économie politique et de statistique (1848), La question des banques (1864), La Banque d'Angleterre et les banques d'Ecosse (1867), La liberté commerciale et les résultats du traité de commerce de 1860 (1869), and L'or et l'argent (1870).
Barthélémy-Pierre-Joseph-Charles Dunoyer (1786-1862). Dunoyer was a journalist; academic (a professor of political economy); politician; author of numerous works on politics, political economy, and history; a founding member of the Société d' économie politique (1842); and a key figure in the French classical liberal movement of the first half of the nineteenth century, along with Jean-Baptiste Say, Benjamin Constant, Charles Comte, Augustin Thierry, and Alexis de Tocqueville. He collaborated with Comte on the journal Le Censeur and Le Censeur européen during the end of the Napoleonic empire and the restoration of the Bourbon monarchy. Dunoyer (and Comte), combined the political liberalism of Constant (constitutional limits on the power of the state, representative government), the economic liberalism of Say (laissez-faire, free trade), and the sociological approach to history of Thierry, Constant, and Say (class analysis, and a theory of historical evolution of society through stages culminating in the laissez-faire market society of "industry." His major works include L'Industrie et la morale considérées dans leurs rapports avec la liberté (1825), Nouveau traité d'économie sociale (1830), and his three-volume magnum opus, De la liberté du travail (1845). After the revolution of 1830 Dunoyer was appointed a member of the Académie des sciences morales et politiques, worked as a government official (he was prefect of L'Allier and La Somme), and eventually became a member of the Council of State in 1837. He resigned his government posts in protest against the coup d'état of Louis Napoléon in 1851. He died while writing a critique of the authoritarian Second Empire, which was completed and published by his son Anatole in 1864.
Pierre-Suzanne-Augustin, Baron Cochin (1823-1872) was a government official before being elected as assistant to the mayor and then mayor of the 10th Arrondisment of Paris. Cochin's politics were that of liberal catholicism which led him to oppose the Second Empire of Louis Napoleon. He is best known for his 2 volume work urging the abolition of slavery which appeared in 1861. He was made a member of the Academy of Moral and Political Sciences in 1864.
Maurice Monjean (1818-?). A member of the editorial board of the Journal des économistes from 1841 to 1845. He also edited Malthus's Principles of Population and Definitions of Political Economy in the series Collection des principaux economists (1846).
Louis Reybaud (1798-1879). Reybaud was a businessman, journalist, novelist, fervent antisocialist, politician, and writer on economic and social issues. In 1846 he was elected deputy representing Marseilles but his strong opposition to Napoleon III and the empire forced him to retire to devote himself to political economy. He became a member of the Académie des sciences morales et politiques in 1850. His writings include the prize-winning critique of socialists, Études sur les réformateurs et socialistes modernes: Saint-Simon, Charles Fourier, Robert Owen (1840), the satirical novel Jérôme Paturot à la recherché d'une position sociale (1843), and Économistes contemporains (1861). Reybaud also wrote many articles for the Journal des économistes and the Dictionnaire de l'économie politique (1852).
François Guizot (1787-1874). Guizot's career was that of a successful academic and politician which spanned many decades. He was born to a Protestant family in Nîmes, and his father was guillotined during the Terror. As a law student in Paris the young Guizot was a vocal opponent of the Napoleonic empire. After the restoration of the monarchy Guizot was part of the "doctrinaires," a group of conservative and moderate liberals. He was professor of history at the Sorbonne from 1812 to 1830, publishing Essai sur l'histoire de France (1824), Histoire de la revolution d'Angleterre (1826–27), Histoire générale de la civilization en Europe (1828), and Historie de la civilization en France (1829-32). He was elected deputy in 1829 and became very active in French politics after the 1830 revolution, supporting constitutional monarchy and a limited franchise. He served as minister of the interior, then minister of education (1832-37), ambassador to England in 1840, then foreign minister and prime minister, becoming in practice the leader of the government from 1840 to 1848. He promoted peace abroad and liberal conservatism at home, but his regime, weakened by corruption and economic difficulties, collapsed with the monarchy in 1848. He retired to Normandy to spend the rest of his days writing history and his memoires such as Histoire parlementaire de France (1863–64) and Histoire des origines du gouvernement représentif en Europe (1851). Liberty Fund has republished the translation by Andrew Scoble (1861) The History of the Origins of Representative Government in Europe (2002).
For additional reading see the following in the Library:
In the Forum: