About Liberty Fund:
Liberty Fund, Inc. is a private, educational foundation established to encourage the study of the ideal of a society of free and responsible individuals.
Fair use statement:
This material is put online to further the educational goals of Liberty Fund, Inc. Unless otherwise stated in the Copyright Information section of the individual titles, this material may be used freely for educational and academic purposes. It may not be used in any way for profit.
Mill on Liberty
This List Is By:
Liberty Fund Staff
Liberty Fund, Inc., Indianapolis, Indiana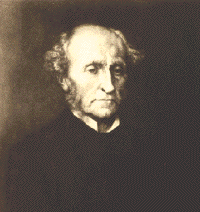 John Stuart Mill (1806-73) was one of the most important classical liberals of the 19th century and one of the most important political philosophers of all time. On Liberty, one of the foundation texts of 19th century classical liberalism, was published in 1859.
In his Autobiography (1873) Mill described On Liberty as "a kind of philosophic text-book of a single truth" which he defined as follows:
The object of this Essay is to assert one very simple principle, as entitled to govern absolutely the dealings of society with the individual in the way of compulsion and control, whether the means used be physical force in the form of legal penalties or the moral coercion of public opinion. That principle is that the sole end for which mankind are warranted, individually or collectively, in interfering with the liberty of action of any of their number is self-protection. That the only purpose for which power can be rightfully exercised over any member of a civilised community, against his will, is to prevent harm to others. His own good, either physical or moral, is not a sufficient warrant. He cannot rightfully be compelled to do or forbear because it will be better for him to do so, because it will make him happier, because, in the opinions of others, to do so would be wise or even right. These are good reasons for remonstrating with him, or reasoning with him, or persuading him, or entreating him, but not for compelling him with any evil in case he do otherwise. To justify that, the conduct from which it is desired to deter him must be calculated to produce evil to someone else. The only part of the conduct of anyone for which he is amenable to society is that which concerns others. In the part which merely concerns himself, his independence is, of right, absolute. Over himself, over his own body and mind, the individual is sovereign.
In this Reading List I want to explore some of the key ideas which Mill developed in On Liberty.
For additional reading please see the following:
The OLL holdings of books by Mill: John Stuart Mill (1803-1873). Essays in The Forum on Mill. The OLL has two versions of Mill's essay On Liberty: an edition from 1879 which contains both On Liberty and The Subjection of Women; and the authoritative University of Toronto Press edition of On Liberty.