About Liberty Fund:
Liberty Fund, Inc. is a private, educational foundation established to encourage the study of the ideal of a society of free and responsible individuals.
Fair use statement:
This material is put online to further the educational goals of Liberty Fund, Inc. Unless otherwise stated in the Copyright Information section of the individual titles, this material may be used freely for educational and academic purposes. It may not be used in any way for profit.
Liberty and the Constitution in the Work of Lysander Spooner
This List Is By:
Liberty Fund Staff
Liberty Fund, Inc., Indianapolis, Indiana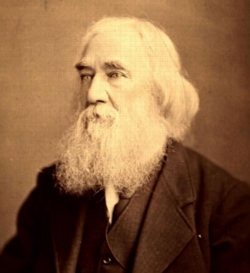 In this discussion we want to explore what the nineteenth century American legal theorist and abolitionist, Lysander Spooner (1808-1887), thought about liberty and the American constitution. We will do so by looking through the lens of his writings on the monopoly enjoyed by the Post Office, the constitutionality of slavery, the authority of the U.S. constitution itself, and his ideas about natural law. The Online Library of Liberty has all of Spooner's writings online. We do not have the following readings:
Session 2: The Unconstitutionality of Slavery: Round One
Wendell Phillips, The Constitution: A Pro-slavery Compact: Extracts from the Madison Papers, Etc. (1844)
Session 3: The Unconstitutionality of Slavery: Round One
Wendell Phillips, Review of Lysander Spooner's Essay on the Unconstitutionality of Slavery (1847)
Session 4: Is the Constitution of No Authority?
Randy E. Barnett, "Libertarianism and Legitimacy: A Reply to Huebert", Journal of Libertarian Studies, vol. 19, no. 4, 19 Fall 2005.
Session 6: A Modern Appreciation of Spooner
Roderick T. Long, Inside and Outside Spooner's Natural Law Jurisprudence (2007).
For additional reading see Lysander Spooner (1808-1887).