About Liberty Fund:
Liberty Fund, Inc. is a private, educational foundation established to encourage the study of the ideal of a society of free and responsible individuals.
Fair use statement:
This material is put online to further the educational goals of Liberty Fund, Inc. Unless otherwise stated in the Copyright Information section of the individual titles, this material may be used freely for educational and academic purposes. It may not be used in any way for profit.
50th Anniversary Anthology of the Works of Ludwig von Mises
This List Is By:
Liberty Fund Staff
Liberty Fund, Inc., Indianapolis, Indiana

The 50th Anniversary of Liberty Fund (1960-2010)
Liberty Fund was founded in 1960 thus making 2010 its 50th Anniversary Year. As part of the celebrations organized for this year we plan to create a number of anthologies drawn from the books which Liberty Fund has published over the decades. The idea is to introduce readers to some of the outstanding material which Liberty Fund has produced over this period in the hope that it might encourage people to read the original books for themselves.
In particular, we will showcase the outstanding definitive scholarly editions of the following economists and political theorists:
Additional anthologies of Liberty Fund books are planned in the following subject areas and topics: The American Revolution and Constitution, History of Political Thought, Economics, History, Law, Political Thought.
A complete list of books published by Liberty Fund can be found at its online catalog from which they can be purchased. Many of these are also available online at the OLL here.
Ludwig von Mises (1881-1973)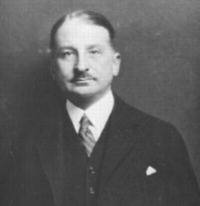 The following is an anthology of the writings of the great Austrian economist Ludwig von Mises (1881-1973) who was the acknowledged leader of the Austrian School of economic thought, a prodigious originator in economic theory, and a prolific author. Mises' writings and lectures encompassed economic theory, history, epistemology, government, and political philosophy. His contributions to economic theory include important clarifications on the quantity theory of money, the theory of the trade cycle, the integration of monetary theory with economic theory in general, and a demonstration that socialism must fail because it cannot solve the problem of economic calculation. Mises was the first scholar to recognize that economics is part of a larger science in human action, a science which Mises called "praxeology". He taught at the University of Vienna and later at New York University. Mises wrote many works on two related economic themes: monetary economics, inflation, and the role of government, and the differences between government-controlled economies and free trade. His influential work on economic freedoms, their causes and consequences, brought him to highlight the interrelationships between economic and non-economic freedoms in societies, and the appropriate role for government.
The selections are taken from the Liberty Fund Library of the Works of Ludwig von Mises.
For further information about Mises see: