About Liberty Fund:
Liberty Fund, Inc. is a private, educational foundation established to encourage the study of the ideal of a society of free and responsible individuals.
Fair use statement:
This material is put online to further the educational goals of Liberty Fund, Inc. Unless otherwise stated in the Copyright Information section of the individual titles, this material may be used freely for educational and academic purposes. It may not be used in any way for profit.
Shaftesbury, Mandeville, and Smith on Liberty, Virtue, and Prosperity
This List Is By:
Liberty Fund Staff
Liberty Fund, Inc., Indianapolis, Indiana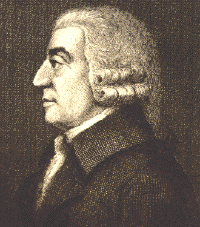 In this discussion we would like to compare Smith's views on liberty, virtue, and prosperity with those of the Earl of Shaftesbury and Bernard Mandeville. All three thinkers appear to support the idea that the pursuit of private advantage does not contradict the public good, yet they do disagree about the question of virtue, the relation of wealth or prosperity to human well being, the place and effects of open markets in civil society, and the role of virtue in economics and politics. This discussion will explore the areas of agreement and disagreement in the thought of these important thinkers.
There is no reading set for the final 6th session.
See the online collection of the illustrations Shaftesbury did for his book.
For further reading see other sections of this website:
[The image of Smith comes from "The Warren J. Samuels Portrait Collection at Duke University."]