About Liberty Fund:
Liberty Fund, Inc. is a private, educational foundation established to encourage the study of the ideal of a society of free and responsible individuals.
Fair use statement:
This material is put online to further the educational goals of Liberty Fund, Inc. Unless otherwise stated in the Copyright Information section of the individual titles, this material may be used freely for educational and academic purposes. It may not be used in any way for profit.
Hayek and von Mises on Liberty, Socialism, and Interventionism
This List Is By:
Liberty Fund Staff
Liberty Fund, Inc., Indianapolis, Indiana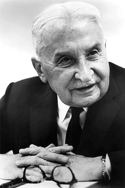 This reading list explores the ideas of the Austrian School economists Friedrich Hayek and Ludwig von Mises on liberty, socialism, and interventionism. Mises entered the debate as early as 1920, soon after the Bolshevik Revolution broke out in Russia, with his book Socialism in which he argued that rational economic planning and the efficient allocation of resources was impossible without free pricing and the private ownership of property. Hence central planning and thus socialism was impossible. As regards the kind of economic interventionism practiced in western economies both Hayek and Mises argued that it was inherently unstable and that its internal logic must lead to the repeal of interventionist laws (deregulation) or to a society's steady progress towards further interventionism (as Mises experienced in Nazi Germany and Hayek in Britain during WW2 and the building of the welfare state).
Two of the readings are not available online at this time:
Mises, "Economic Calculation in the Socialist Commonwealth" (1920)
Mises, A Critique of Interventionsm (1929)
For further reading see: